SADIK BADAK Ph.D.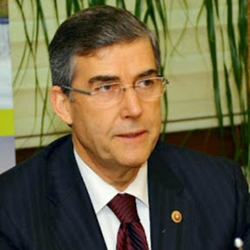 EDUCATION LIFE
Sadık BADAK graduated from the Business Administration and Accounting Department of the Academy of Economics and Commercial Sciences of Ankara in 1977. He performed his military service in 1980 as a reserve officer.
He had the TÜSSİDE-ANTEV Trainings on Advanced Management Techniques between 1996 – 2000.
He had his post-graduate education at Ahmet Yesevi University in "Management and Organization" branch with his "Factors Influencing Institutionalization of Aggregate Corporations" project. He had been in London, Paris, Hannover and Barcelona in 2017 for study and research in the fields of "Design Management Theory", "Process Productivity Audit on Public-Private Partnership Projects in Manufacturing Sector" and "World Fair History and Modern Time Fairs". He has got his Ph.D. with his thesis on "International Fair Organizations, Current Status in Turkey and a Model Proposal" at Mehmet Akif Ersoy University in the Business Administration Department in 2018
PROFESSIONAL LIFE
The agency firm, established in 1982 by Mr. Badak working as a accounting consultant between 1980–1995, has still been serving in insurance sector.
Mr. BADAK contributing in developing collaboration culture in Antalya served as the founder and director of multi-partnered Antalya Öncü İnşaat A.Ş and Antalya Güçbirliği A.Ş, between 1994–2007, he was the Chairman of the Board of the multi-partnered, ANFAŞ, Antalya Fairs and Investment Co. established for supporting the city's economy and he has spent great efforts for Antalya to get Botanic WORLD EXPO-2016 organization for 10 years. During 2015-2016, he has served as the Chairman of the Board of ANFAŞ, he has expanded Antalya Expo Center to 100.000 m2 closed space through sub-units, enriched the center with a congress unit and led Antalya to get several currently continuing expos.
Since 2017, Badak has been a consultant to the State Committee for Tourism Development of Uzbekistan.
POLITICAL LIFE
Sadık BADAK has been elected as the Deputy of Antalya for 23rd and 24th Terms in 2007 and 2011. He has been a member of the Committee on Planning and Budget of the Grand National Assembly of Turkey (TBMM) for 8 years and a member and R&D Deputy Director of the Central Decision Making and Execution Committee of AKPARTİ in 2009– 2012.
He served as the 24th Term's Chairman of Friendship Group between Parliaments of Turkey and Canada and a Member of 2013–2015 TBMM, AGİT – the Organization for Security and Co-operation in Europe.
SOCIAL ACTIVITIES
He has acted as the chairman or director in establishing several foundations such as Aydınlar Ocağı (The Highbrowed Union), the Association of Financial Advisors and Accountants, Antalya Education Foundation, the Association of Insurance Agencies, the Union of Wholesalers, the Association of Young Directors and etc.
As its founder, he served as the Chairman of the Board of Antalya Industrialists and Businessmen Association (ANSİAD) between 1990-1998 and the Chairman of Advisory Board between 2002-2006.
In addition, he served as the Chairman of the Economy Group of Antalya City Council between 1998-2007 and the Chairman of the Sector Council of TOBB Inspection and Management Consultancy of Fair Organizations in Turkey between 2006-2007. Mr. Badak also served as a member of the Board of Overseers of the Foundation of Antalya Science University between 2015-2019.
INTERESTS
He is interested in Social and Regional Development, Entrepreneurship, Efficiency, Total Quality and Management Design, Planning, Investment and Management.
Mr. BADAK, who knows English and has been in Turkish Republics, European Countries, the USA, Canada, Russia, South Africa, Japan, Dubai, Uzbekistan and etc. countries since 1989 for Education and Professional Analysis, has articles on issues of the region and the country as well as business life published in local and national magazines and newspapers, attendances in conferences, radio and TV broadcasts and a book titled, "ANSİAD upon Foundation Period".
contact details
Tunus Cad. No: 55/4 Çankaya/ANKARA
feedback form
If you'd like a free consultation, please start by completing the form: